Thank you to everyone who helped us celebrate the 30th anniversary of the Meyerhoff Scholars Program and program founder Robert E. Meyerhoff. Please check back soon for stories, photos, and additional coverage of the big anniversary weekend. (Click photo to enlarge.)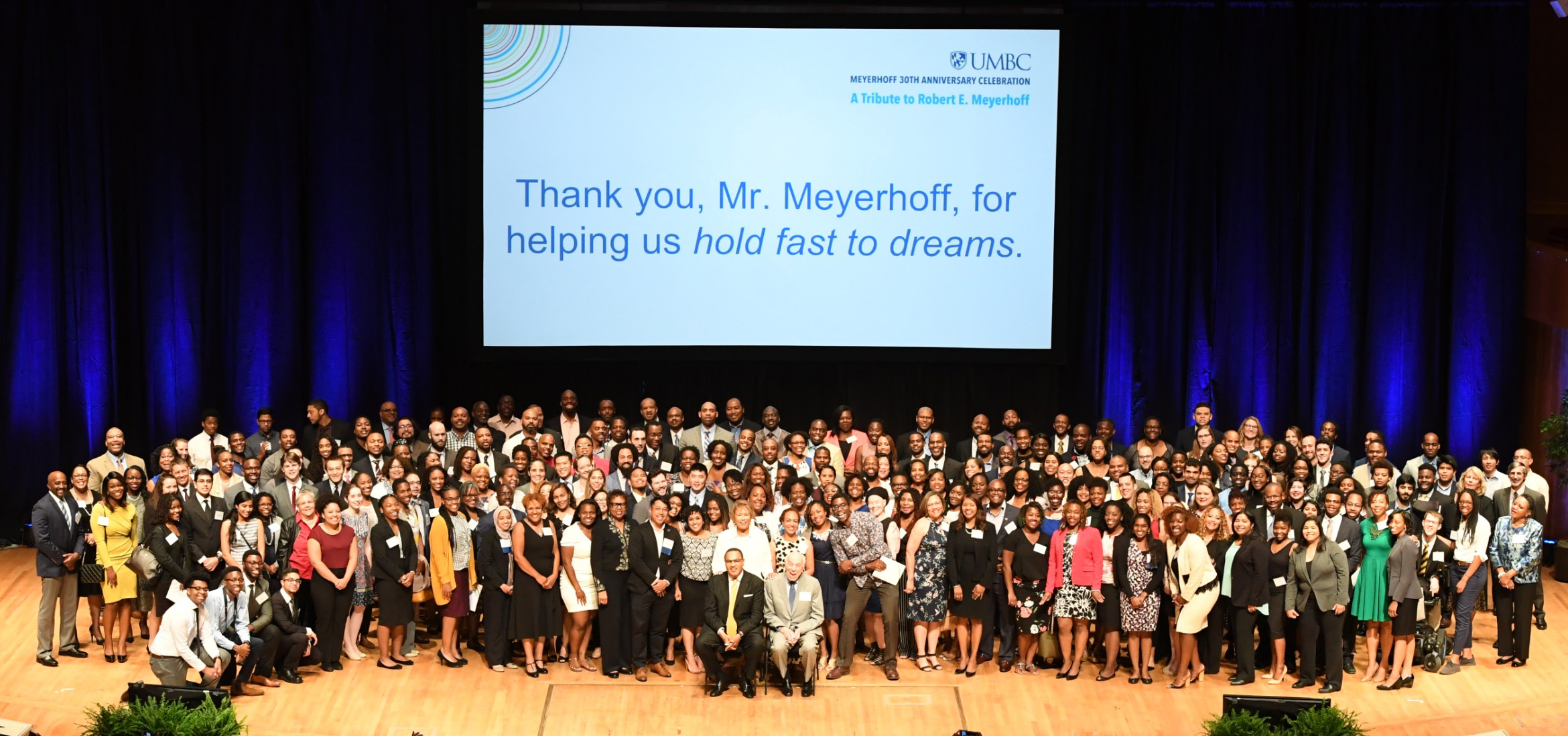 Get Involved
Learn more about Meyerhoff Alumni Advisory Board (MAAB) alumni engagement opportunities, from leadership in MAAB, to mentoring and participating in summer meet-ups.
Stories from the Meyerhoff 30th
Event Photos
Saturday Alumni Reception Pixilated Booths:
Video Moments
Relive or view the Tribute to Robert E. Meyerhoff program in its entirety (1 hr 27 min) here.
Highlight video:
Below: The Meyerhoff community recites Langston Hughes' "Hold Fast to Dreams"
---

Event Information
Friday, May 31, 2019
Meyerhoff Symphony Hall, Baltimore
(Directions & Parking)
4:00 – 5:30 p.m. Reception
5:30 – 6:30 p.m. Program
Join Dr. Freeman and Jackie Hrabowski and 30 cohorts of Meyerhoff Scholars to celebrate and thank Robert Meyerhoff for his extraordinary vision and generosity.
Alumni led informal gatherings in Baltimore will take place post-event.
Meyerhoff Scholars Program Family Reunion
Saturday, June 1, 2019
UMBC Event Center
9 a.m. – 2 p.m.
Registration opens at 9 a.m.
Alumni, Scholars, and Parents are invited to gather for a day of activity and engagement, including a Family Meeting, lunch, and networking.
Though there are neither structured nor supervised activities for young ones, alumni are welcome to register and bring children.
Meyerhoff Scholars Program Alumni Reception
Saturday, June 1, 2019
Renaissance Baltimore Harborplace Hotel
8 p.m. – midnight
End the 30th Anniversary Celebration weekend with dancing, open bar, heavy hors d'oeuvres, and more fun led by the Meyerhoff Alumni Advisory Board (MAAB).