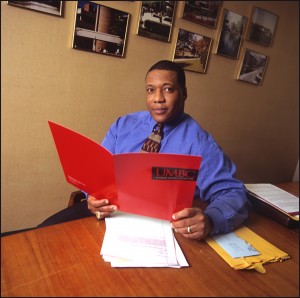 The passing of LaMont Toliver, Director of the Meyerhoff Scholars Program and Assistant Dean of Undergraduate Education, on February 28, 2012, was a tragic loss for the Meyerhoff Scholars Program family and the entire University community. LaMont graced us with his considerable abilities – his leadership, deep compassion, wisdom, wit, and determination – for 22 years. His example will continue to inspire us.
An on-campus memorial was held on Wednesday, March 7, 2012, at noon in the University Center Ballroom.
Online Tribute
Read memories of LaMont, along with messages for his family, on the online tribute page.
– Visit the online tribute page.
Press Coverage
A number of media outlets covered the life and passing of LaMont Toliver. Follow these links to read more.
– Arbutus Patch, "Toliver's Legacy Recalled at UMBC Memorial" (also ran in the Cantonsville Patch)
– The Journal of Blacks in Higher Education, "In Memoriam: LaMont Fernal Toliver (1963-2012)"