1988
The Meyerhoff Scholarship Program begins with generous support from Robert and Jane Meyerhoff to provide financial assistance, mentoring, advising, and research experience to African American male undergraduate students committed to obtaining Ph.D. degrees in math, science, and engineering.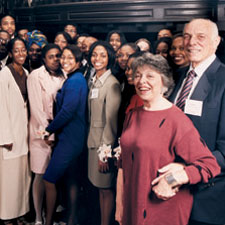 1989
The Meyerhoff Scholarship Program enrolls its first class of students, the M1 cohort of 19 freshmen.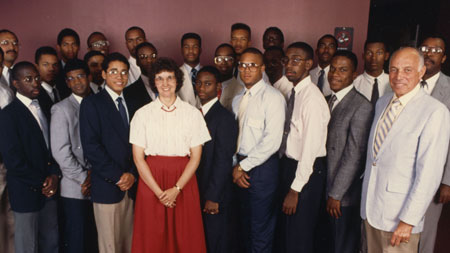 1990
Women are first admitted to the program.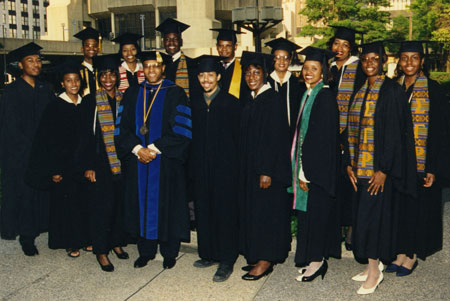 Apple Computers, Inc., donates a computer to each member of the M3 cohort. The company also donated computers for the M4 and M5 cohorts.
1992
The M4 cohort earns a 4.0 GPA across the board during their Summer Bridge classes.
The Meyerhoff Parent Association is initiated by a group of M1, M2, and M3 parents, including original board members Carolyn King, Isabelle McCants, McCauley Stancil, Edy Brooks, Dr. Sidney Jones, Kathy Chase, and Shirley Watkins.
1993
The first class of Meyerhoff Scholarship Program graduates goes on to graduate and professional programs at Northwestern, Princeton, Penn State, North Carolina State University, and the University of Pennsylvania, among others.
The Eli Lilly Company sponsors two students from Indiana, the first Meyerhoff Scholars to come to UMBC from outside of Maryland.
UMBC awards Mr. Meyerhoff an honorary Doctor of Humane Letters degree.
1994
Working with UMBC Howard Hughes Medical Institute Investigator Dr. Michael Summers, Chianna Paschall M4, chemistry, creates a model of one of the dozens of proteins that make up the HIV virus. Her model is featured on the cover of the November issue of the Journal of Molecular Biology.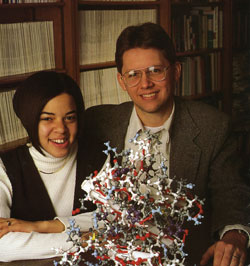 The Meyerhoff Scholarship Program creates an ongoing partnership with Dr. Thomas R. Cech, 1989 Nobel Laureate in chemistry, through which students complete research internships at his University of Colorado laboratory.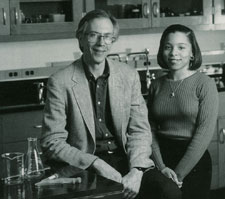 1995
Dr. Kenneth Maton, professor of psychology, and UMBC President Freeman Hrabowski publish their first study based on the Meyerhoff Scholars' experiences, "Enhancing the success of African-American students in the sciences: Freshman year outcomes," in School Science and Mathematics.
1996
The Meyerhoff Scholarship Program is opened to people of all backgrounds committed to increasing the representation of minorities in science and engineering.
UMBC receives the Presidential Award for Excellence in Science, Mathematics, and Engineering Mentoring from President Bill Clinton.
Damon Tweedy (M4), biological sciences, is the first Meyerhoff Scholar to graduate with a perfect 4.0 GPA.
1997
The Meyerhoff Graduate Fellows Program begins, focusing on promoting cultural diversity in the biomedical sciences at the graduate level.
A gift from the Meyerhoff Foundation establishes The Robert and Jane Meyerhoff Chair in Biochemistry at UMBC and biological sciences professor Suzanne Ostrand-Rosenberg is the first honored to hold this position.
Diversity in Higher Education, Volume 1 publishes, "The recruitment and retention of talented African-Americans in science: The role of mentoring," by Dr. Charles Woolston, Dr. Hrabowski, and Dr. Maton.
UMBC begins its partnership with The Leadership Alliance, a consortium of more than thirty of the nation's leading research and teaching academic institutions.
1998
Oxford University Press publishes, Beating the Odds: Raising Academically Successful African American Males, based on research about the Meyerhoff Scholarship Program and co-authored by Dr. Hrabowski, Dr. Maton, and Dr. Geoffrey Greif.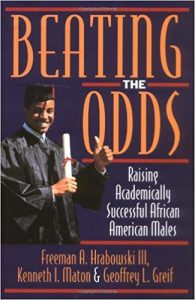 2000
Chester Hedgepeth (M1), biological sciences, becomes the first African American student to receive an M.D./Ph.D. from the University of Pennsylvania and the first Meyerhoff Scholar to achieve the degree.
The Meyerhoff Scholarship Program begins an international partnership through the Fogarty MIRT Grant with Lancaster University in England, allowing students to participate either in a one-year exchange program or a summer research opportunity.
Dr. Summers receives the Presidential Award for Excellence in Science, Mathematics, and Engineering Mentoring in recognition of the substantive undergraduate research opportunities Meyerhoff Scholars and others obtain in his HHMI laboratory.
The Journal of Research in Science Teaching publishes, "African-American college students excelling in the sciences: College and postcollege outcomes in the Meyerhoff Scholars Program," by Dr. Maton, Dr. Hrabowski, and C.L. Schmitt.
2002
Overcoming the Odds: Raising Academically Successful African American Young Women, based on research about the Meyerhoff Scholarship Program, is co authored by Dr. Hrabowski, Dr. Maton, Dr. Monica Greene, and Dr. Greif.
The Today Show features a segment about the Meyerhoff Scholarship Program.
2003
Crystal Watkins (M3), biological sciences, finishes her M.D./Ph.D. at Johns Hopkins University, becoming the first female Meyerhoff Scholar to achieve the degree.
BEST (Building Engineering and Science Talent) cites the Meyerhoff Scholarship Program for its exceptional "Institutional Leadership" in a report to the United States Congress of best practices among university programs leading the way in training minorities in the sciences.
A gift by the Meyerhoff Foundation establishes the Robert and Jane Meyerhoff Science Fund to support teaching and research in the life sciences at UMBC.
2005
The Robert and Jane Meyerhoff Chemistry Building is dedicated in recognition of the Meyerhoffs generosity and commitment to the universal benefits of education.
Dr. Hrabowski and Dr. Summers are invited by the Howard Hughes Medical Institute to discuss the success of the Meyerhoff Scholarship Program at a Symposium on Diversity in the Sciences, held at Harvard University. The following year, they speak again at the University of Louisiana Monroe and the University of Washington.
2006
In an editorial titled, "Why American College Students Hate Science," the New York Times points to UMBC as an innovator in turning American college students into scientists.
Dr. Hrabowski and Dr. Summers co-author a report entitled  "Preparing Minority Students and Engineers" for Science magazine.
The Howard Hughes Medical Institute awards UMBC a $2.2 million teaching grant to further develop the HHMI Scholars Program, a science education initiative that focuses on students from diverse backgrounds.
2007
Isaac Matthews (M15), mechanical engineering, a star on the UMBC Track and Field team, is named Arthur Ashe Male Sports Scholar of the Year by Diverse magazine.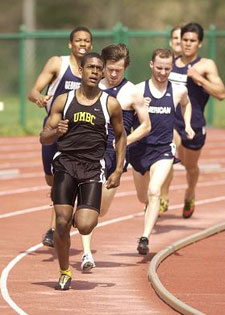 The Civil Rights Project at UCLA publishes, "Opening an African-American STEM Program to talented students of all races: Evaluation of the Meyerhoff Scholars Program, 1991-2005," by Dr. Maton, Dr. Hrabowski, and M. Ozdemir.
2011
UMBC was featured on 60 Minutes in a segment entitled "Hrabowski: An Educator Focused on Math and Science." The segment, which aired on November 13, 2011, featured interviews with Dr. Freeman Hrabowski and Meyerhoff alumni and current students. Click on links below to view segments.
Hrabowski: An educator focused on math and science
Reaching above the ceiling (featuring Meyerhoff alumnus, Dr. Kafui Dzirasa)
Remembering the Children's March
Hrabowski: "Education transforms lives"
2012
Thirteen students received an Office of Undergraduate Education Research Awards.  Nineteen students were recognized as members of Tau Beta Pi.  Thirty students were inducted into The Honor Society of Phi Kappa Phi.  Eleven students inducted into the Golden Key International Honour Society.  Thirteen students were inducted into Phi Beta Kappa.  Twenty-three students completed the academic year with a 4.0 GPA.
2013
Now celebrating its 25th year, the Meyehoff Scholars Program boasts more than 800 graduates, many of whom have gone on to pursue careers as scientists, researchers, engineers and doctors. In a story entitled  "Where Are They Now?" in the August issue of Diverse: Issues in Higher Education, the magazine highlights the successes of six Meyerhoff alumni.
2014
UMBC, the Howard Hughes Medical Institute, Pennsylvania State University, and University of North Carolina at Chapel Hill embark on a 5-year collaboration known as the Meyerhoff Adaptation Project. Under the plan, HHMI investigator Michael Summers and colleagues at UMBC will provide leadership and advice to Penn State and UNC, which will each adapt elements of the Meyerhoff Program to the Millennium Scholars Program at Penn State and the Chancellor's Science Scholars Program at North Carolina.
An article – "Strength in Numbers" –  and video of the same name are published in the HHMI Bulletin to highlight the Meyerhoff's program effectiveness and provide more details about the Meyerhoff Adaptation Project.
2016
Three chemical engineering students are awarded the Barry Goldwater scholarship. To date, out of the 15 Goldwater scholarships awarded to UMBC students, 12 are Meyerhoff Scholars.
2017
On August 3rd, Jerome Adams (M4), biochemistry, was confirmed as the 20th Surgeon General of the United States. During his tenure as Surgeon General, Dr. Adams has created several initiatives to tackle our nation's most pressing health issues, including: the opioid epidemic, oral health, and the links between community health and both economic prosperity and national security.
Naomi Mburu (M26), chemical engineering, becomes the first UMBC student to earn the prestigious Rhodes Scholarship. As a Rhodes Scholar, she will be completing a Ph.D. in engineering science and conducting research under Dr. Peter Ireland to work on heat transfer applications for nuclear fusion reactors.
Meyerhoff alumni have an outstanding year. They earned 36 Ph.D. degrees, which is the most ever in one year for the Program.
2018
After following three M26 scholars during their senior year, the Baltimore Sun publishes an article highlighting the Meyerhoff Scholars Program's success. The article describes 12 "lessons" as exemplified by Adrian Davey, chemical engineering; Ann Cirincione, bioinformatics and computational biology; and Tania Evans, chemical engineering.
'Agents of change:' A year with the UMBC program shaping some of the nation's best and most diverse scientists
Currently, Adrian is pursuing his Ph.D. in chemical and biomolecular engineering at UC Berkeley; Ann is pursuing her Ph.D. in quantitative and computational biology at Princeton University; and Tania is pursuing her Ph.D. in chemical engineering at Georgia Tech.
2019
Letitia Dzirasa (M11), biological sciences, is named as the new Baltimore City Health Commissioner. She becomes the first African American woman to serve in the role.
On April 9th, Priscilla Chan, co-founder of the Chan Zuckerberg Initaitive (CZI), announced a gift of $6.9 million to support a unique partnership to replicate UMBC's Meyerhoff Scholars Program at UC San Diego and UC Berkeley. The CZI grants, over five years, allow the San Diego and Berkeley campuses to apply many of the models successfully used in the Meyerhoff Program.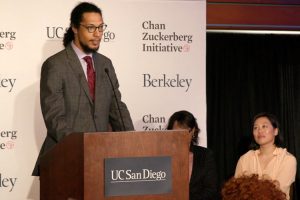 Mrs. Earnestine Baker, Executive Director-Emerita of the Meyerhoff Program, was honored by the National Society of Black Engineers – Baltimore Metropolitan Area Chapter at their 30th Anniversary Gala with its inaugural Legacy Achievement Award. This honor was given to select individuals who have made a substantial impact in the STEM arena either in academics, innovation or community service in the Baltimore city or the surrounding areas. These individuals have epitomized the mission of NSBE to increase the number of culturally responsible Black engineers who excel academically, succeed professionally and positively impact the community.