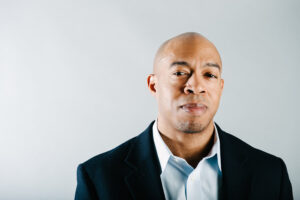 B.S. Computer Science, UMBC (1999)
Masters, Computer Science and Engineering, University of Michigan (2002)
Senior Outbound Product Manager for Google Cloud
We caught up with Meyerhoff alumni Bobby Allen and asked him to reflect on his time at UMBC:
Tell us about your current job and what you enjoy most about it.
Cloud Therapist is my unofficial title. I am officially a Senior Outbound Product Manager for Google Cloud. That means I'm focused on making sure Google Cloud products & services are relevant for people outside the company – customers, analysts and the tech community.
How has your experience as a Meyerhoff Scholar prepared you for a successful career?
The Meyerhoff program taught me how to collaborate and listen well. Being in a cohort with brilliant people (who were also very relatable) was a wonderful foundation. There will always be (other) smart people in any environment you land in. Get to know them. Don't be intimidated.  You belong in the place / role where you landed and you have a huge network of Meyerhoff alumni to draw on for support.
Why is the Meyerhoff mission so important, not only to you, but to society?
It's critical to lift as we climb. We all need to think about how to support those who are less fortunate or making their way. Representation also matters. The space you're in may not have seen a leader who looks like you. Be humble but unashamedly excellent. Your performance will become a great platform to share what you believe and why giving back is so important.
What advice would you give to a student considering the program?
This program is a launching pad for so many things you'll want to accomplish in life. The program invests in not just what you can do but who you are. You need deep roots to make lasting impact.  That has to include character and humility, not just proficiency in your area of study.
Is there anything you'd like to say to other Meyerhoff alumni?
I'm so proud when I see updates about Meyerhoffs in the news or on social media. If this were a marvel media, we'd be like Hydra but using our skills for good. If we all stood up and represented – folks would see that we're everywhere.  It's a blessing to be a part of a program that's produced so many leaders and stood the test of time.